Reactions from the Children: 

Visit #2 with the Students (October 10, 2013)
Visit #3 with the Students  (October 31, 2013)
Final Visit with the Students (12/2/2013)
Evaluation Strategy and Results:
Strategy- Our plan going into the final round of testing was to administer a pre- and post-quiz to the students (Nutrition PreQuiz). Our goal from this type of evaluation was to have each student make an improvement from their prequiz score to their postquiz score.
Results-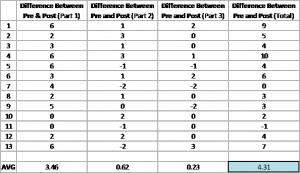 The difference between the total scores on the prequiz and the postquiz were deemed statistically significant.